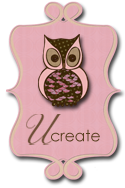 Want to go from wimpy to hunky in an hour, and without breaking a sweat? Come on over to UCreate today and check out my guest post on how to use nearly any pattern or shirt to make your own muscle suit for all your costume-needing and gift-giving occasions.
Okay, just kidding on the last one.  But really, I seriously can't even think "muscle suit" without thinking of Arrested Development.  source.
So click on over HERE and get all the saucy construction details. And thank you so much, Kari, for the opportunity to create for your amazing blog.  I can't tell you how flattered I am to have you invite me onto UCreate for the day.