Okay, so maybe it's been lame, but I hope that this past week dedicated to costumes has been beneficial in some way. 
For our final day, let's talk about my favorite thing in costumes, accessorizing. 
Most characters that kids are into have some sort of iconic…whatever that you can add to pretty much anything and still somehow get the general feel and look of the character.  Like DJ Lance Rock hats

If you're at all familiar with Yo Gabba Gabba, you immediately get the reference just from those awesome orange hats.  If you aren't familiar, well, kids in hats are just cute.
But even with less commercial alter-egos, accessories add so much more to the dress-up experience, and can actually simplify your costume prep! Make your space explorer a Jet Pack, grab a pair of swimming goggles and a water gun, and you're pretty much good to go.
I love the braided hair and little buddy Jessica from Me Sew Crazy added to the already impressive Rapunzel dress she made her daughter.  The dress already screamed princess, but with the added accessories, there is no doubt now which princess her daughter is.  Plus, so much fun!
A few years ago I made my oldest a Native American costume using McCalls 5953 pattern.  It turned out pretty sweet, if I do say so myself, but needed something more.
I whipped up a Native American-inspired quiver
and the boy helped me make a simple bow and some arrows out of twine and sticks fallen from a tree near our house.
We also made a feathered headband.
Not only did the added weaponry add to the authenticity of the costume, but it makes for an easy dress-up for any time and any outfit, too
  And *that's* what I love about costumes.  I am totally that parent that lets my kids wear costumes to the grocery store, the park, wherever pretty much.  I think it's adorable and a great way for kids to use their imaginations.  The accessories in our costume bin get mixed and matched all the time, creating new super heroes and characters for whatever role-playing adventures my kids and their friends think up. 
Andrea at The Train to Crazy has been doing an amazing theme the past few weeks dedicated to dress-ups.  You have to check it out.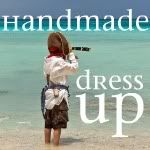 Costumes aren't just for Halloween.  Whip up a few simple ones, throw in an accessory or two, and you've got yourself a treasure of imagination-inspiring toys that get worn and loved all year long.