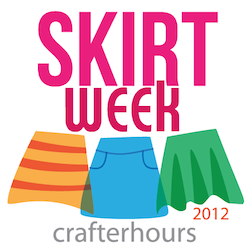 Crafterhours is one of my all time favorite blogs.  Not only do Susan and Adrianna share amazing things to make and admire, but they are seriously entertaining.  I love reading their posts and especially their little on-going conversations in the sidebar.  You know they'd be a riot to hang out with.  Or at least they pretend convincingly.  But really, I love Crafterhours, respect Susan and Adrianna so much, and I'm honored to be a part of their Skirt Week this year.  Maxi skirts and dresses.  They are comfortable and flattering, and so easy to wear.  The maxi is a total staple in my wardrobe these days.  Today I'm going to show you a really quick and easy variation you can either add to an existing skirt or throw in as a fun detail while making a new skirt. 
All you need is a yard of 1/4" elastic and a few minutes of time to make your basic maxi skirt a little bit more unique and fun
And to prove how easy it is, I did the bulk of mine with a small child tied to my body. 
It's like my baby is my shirt. So.  First you need the skirt.  For my skirt I started with my Pregnant Panels Skirt.  Only I'm no longer pregnant (see baby shirt above), so I used fewer panels and made it extra long (my panels were 45" long for this skirt). 
After nearly completing the skirt, all but the hems, I cut two strips of 1/4" knit elastic 11 inches long

Starting about an inch from the unfinished hem (if working with a finished hem, start directly above the hem), pin the elastic in place at the side seam.
 
Stretching the elastic as you sew, use a stretch-stitch to sew the elastic in place along the side seam.  I find it easiest to firmly hold the back of the fabric/elastic with one hand, while pulling the unsewn elastic with the other hand in front of the foot/needle as I sew things in place.  Use your side seam as a guide, staying as close to the actual seam as you can with your stitches.


Repeat for other side seam.
And you'll have this on the inside


And this fancy fun on the outside

Ruching, add it to a skirt in your life today!