I'm so excited to be a part of Elegance & Elephants' Knock it Off series!  This is quite possibly one of the most exciting kids' sewing series around, with a month of amazing commercial looks knocked off for a fraction of the cost, and a lot of times with even more style than the original.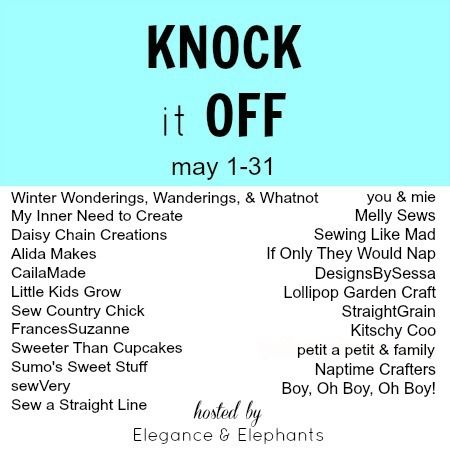 For my Knock Off, I went with one of my favorite European women and kids' clothiers, American Outfitters.  I love their relaxed, beachy designs.  I sat down with my ten-year old and let him go through their summer lookbook to choose his favorite look.  He went with a retro-screen printed tee and flag-print knit shorts.  AO cost?  A mere 101.80 Euros, or about $130.69.   

Yeah.
So with this look as my inspiration, I made my son a randomly-phrased screen printed tee and some flag printed knit shorts for just under $15, or about 11.65 Euro
    I do wish I had gotten the flag print a bit more ragged looking, but other than that, I really love how our knock off turned out.     
The fabric is all from JoAnn, sweatshirt knit and jersey.  So this is one comfortable ensemble, perfect for a relaxed summer day

And yeah, his toenails are painted.  He's cool like that. 
So, how I knocked it off…
First, the shirt. 
My oldest has always come up with his own superheroes and story characters.  One of my favorites is one he calls "Jellyfishman".  For years, nearly all of his pretend play has in some way involved Jellyfishman.  At one point he added the suffix 108, and everything is now Jellyfishman 108.  So when I was trying to come up with some sort of random phrasing to put on his shirt, Jellyfishman seemed the most appropriate for him.  I don't really know what Jellyfishman looks like, but I found a cool deep sea diver image online here and went with it.  I traced the image, and then traced the random phrase onto freezer paper

After cutting out my fabric pieces for the shirt (I used Ottobre 2/2013 Special Edition Tee), I used the cut freezer paper as a stencil on the unsewn pieces, making sure to keep things well away from seam allowances.

I kept the main graphic on the front, at an angle for a more funky feel.  And I added a 108 at the back shoulder.  After the paint dried, I sewed the shirt together

I seriously love the way the diver image turned out.  Like, so much I want to put it on everything now.  But when this kid saw the finished shirt, he shook his head and told me "Nice, but Jellyfishman never even goes in water. He lives in a landlocked area." oops.
I used Made By Rae's Parsley Pant pattern for my short knock offs.  First, I cut the shortened leg pieces out of grey sweatshirt fleece.  Because I wanted stripes to match when the inseam was sewn, I folded the legs to match up the crotch point, and then marked where I wanted my first stripe to be on both sides with masking tape.
After the first stripe was marked, I continued to add masking tape stripes at regular spacing.
Then I cut out stars from freezer paper, and ironed them on to the top area.
 


I applied fabric paint with bunched up cellophane to get an uneven, kind of splotchy-worn look.  Bonus points for using Halloween themed cellophane!

After things dry, remove the tape and paper

Add a patch pocket to the backside of the unpainted leg piece.
Then sew up the legs as normal.
For the thicker, threaded waistband, cut the waistband area of the original pattern off.  Then cut a 10 inch tall strip of fabric, about 2 inches shorter than your finished pant top, out of ribbed knit.  Mark the center of the knit strip about 2 inches above the bottom edge
 

Interface the wrong side at that point, about 2 inch square of interfacing.  Sew 1/2 inch long button holes 1/2 inch from that marked center point on the right side

Fold the ribbed knit in half with short sides matching, right sides together, sew the short side seam
 
Turn to right side, fold in half, match both raw edges of the rib knit to the raw edge of the shorts, right sides together. Sew all along the raw edge, stretching the rib knit as you go.
Fold up, press the seam allowance towards the legs, and top stitch. 

Then just thread some cording through the button holes and slap the shorts on a kid  
A really simple knock off, but totally worth $15, if not $130
Check out all the other amazing looks in the Knock it Off series this month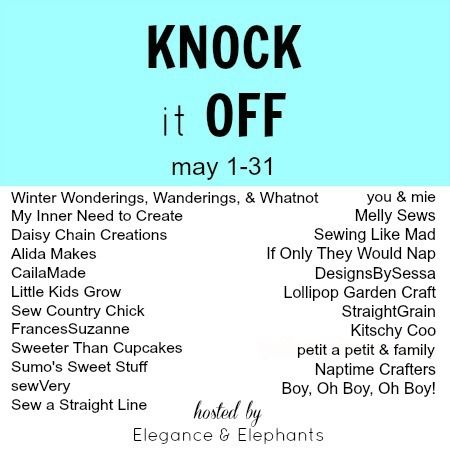 And be sure to add your own knock offs to the Flickr Group
Thanks so much for letting me play along in the series, Heidi.  And I think my son thanks you, too!
Even if I did misrepresent Jellyfishman's feelings towards water.
************************
Don't forget to vote at Project:Sewn