It's summer!  Officially this week!  It's also 30 Days of Sundresses at MellySews, and today I'm sharing my dress with you.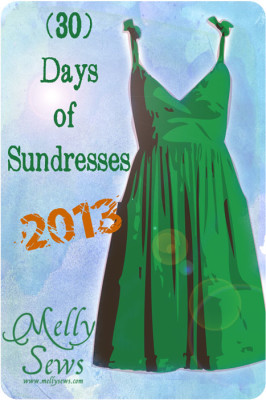 I don't really do sundresses so much.  *cough* Project:Sewn failure *cough* But I do wear dresses and skirts all summer long as often as possible, frequently in the sun.  And that somehow qualifies things, right?! 
So sundresses, summer dresses; I started thinking about a more vintage sundress look, something you'd wear to a garden party.  Not that I've ever been to a garden party.  But it's nice to be prepared with the right dress, just in case.  The sundress styles from the last mid-century all seem to fall within the garden party variety.  And I happen to own a pattern inspired by that era: Vogue 2240.  It also just so happens that it's a wedding gown pattern.

And not just any wedding gown pattern, my wedding gown pattern.  As in, the one I wore to my wedding.  My aunt made my dress, and when she was finished, she gave me back the pattern.  I didn't sew much at the time, but I did horde things.  So I still had this pattern hanging around in my stash.  And I thought it would be really cool, and maybe just a little bit funny, to make myself another version using the same pattern. My aunt made me View B, with sleeves from A.   Unfortunately, I didn't do bridal pictures, so I don't really have any full shots of the dress my aunt made.  And I'm old and got married at the turn of the century, so no digital files.  But here is a picture of a picture to give you an idea.  But not really, because here it looks flat and plain.  In real life, it was simple and understated.  And I loved it.   

  I love the boat neck and the princess seams, the full skirt and the fitted bodice.  It would probably be weird and creepy for me to wear it now.  So I decided to make a summery, less formal, more-accepted-to-wear-13-years-after-the-wedding version of my wedding dress.  I brought the hemline up quite a bit, and I didn't bother with the petticoat.  The sleeves are from View A, but I cut the scythe down so there was no gathering or puffing.  I expanded the skirt piece at the waist to be almost equal to the width of the hem of the skirt.  So basically,  it looked like a wide-angled rhombus prior to sewing.  Before attaching to the bodice, the skirt waist  was gathered to give it more fullness.  I also added a thick waistband where the bodice meets the skirt.  It's hard to see in the pictures, but it gives the dress more of a fitted look, and also is just cute.  Which is most important.  
The pattern calls for facings, linings, and underlinings.  I skipped the linings, and just used facings and underlinings.  I knew I'd be wearing a slip with the dress either way, and I didn't want to add any extra bulk that might come with a lining.  Plus, I'm lazy.  The underlinings, however, were a must.  The fabric (Amy Butler Soul Blossom voile), though beautiful, is fairly thin.  Underlinings add both structure and coverage.  The main difference between a lining and an underlining?  Linings are usually free hanging, sewn separately and then added to a garment just before finishing.  Underlinings are attached directly to the unsewn pieces (there are various methods to attach, I went with the easiest: serging the underlinings to the pieces).  After attaching the underlining to the piece, things are sewn together as if the combined underlining/main fabric was one.  Make sense?
  I went with a simple invisible zipper and hook and eye to close up the back, rather than the line of buttons the pattern calls for.

And that's how I turned a wedding dress into a dress appropriate for all my summer garden-attire  needs.  So, who wants to invite me to a party?
I'll bring the cake.    
There have been some awesome and fun dresses shared already in this series.  Lots of tutorials and even patterns.  Go check out the others on MellySews!