Oh, that See Kate Sew!  She is one amazing girl.  She's beautiful and funny, sweet and talented.  Also, Kate has a thing for ruffles, and she does that thing well.  Right now her annual Ruffles Series is going on and to get her Ruffle Party started, she released her newest pattern The Ruffled Apron, and get this, you can get it free.   You can get all the nitty gritty details on the pattern, including joining in on the sew along by clicking this cute little button below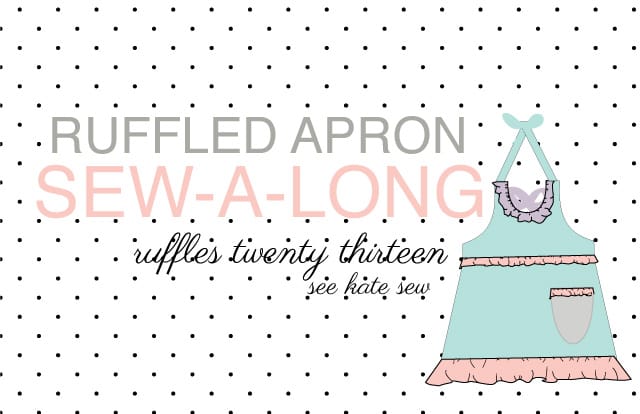 For me?  I already sewed along, or really, sewed alone.  Kate sent me the Ruffled Apron pattern a few weeks prior to its official release (I'm kind of a big a deal) with instructions to mix things up.
So I mixed.


First, I scooped out the neck.  I had planned on doing a sweetheart neckline, but then my serger ate one curve, so a deeply-scooped neck it was!  I lined the bodice, as instructed on the pattern, but then bound the neckline with bias tape.  The contrasting fabric  from the bias tape was also used to make a wide-panel waist just above the gathered skirt.  And while I was changing the top and the middle, I changed the bottom of the apron, too!   I scalloped that bottom right up!

And you know what?!
Oh! how I love the scallops!
 
Aprons have such a fun, retro feel to them anyway, adding scallops just seemed the right thing to do.  I used the pocket as a template for my scallops, going up 4.5 inches for each curve.  Then I bound the hem with more bias tape, like the neckline.

Speaking of the pocket, I kinda-sorted scalloped it, too.  I cut the pattern down the center, curving and creating a sort of tulip-shape.  Nothing radical, but kind of fun and mimics the scallopy-curviness of the hem.

Perhaps my more astute readers have noticed something else?  No, not the awesome farmer tan on my arms, and not my tendency to purse my lips through photo shoots.  My Ruffled Apron is seriously lacking in ruffles.   I know, way to really reinforce the Ruffle Series theme, Sabra.  But you know what?  That's what's so great about the Ruffled Apron Pattern.  It has great bones.  It's a simple, straight-forward sew with some fun options, and with even more possibilities to just make it your own
Ruffles, or not.
Hop on over to See Kate Sew to download the Ruffled Apron pattern, sign up for the sew along, and check out all the other ruffley goodness Ruffles 2013 has to offer.
Pattern: Ruffled Apron by See Kate Sew
Fabric: Waterfront Park from Michael Miller