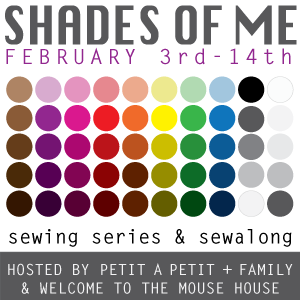 Sometimes I get to rub virtual shoulders with some really, truly amazing talent. When I was asked to be part of the Shades of Me series, hosted by Celina of Petit a Petit & Family and Hayley of Welcome to the Mouse House, it was like being courted by celebrity and I kind of tripped over my fingers responding that yes! I'd sew up something for this! and yes! I'd even do it in brown! In fact, I was so excited over the whole thing, I kind of went overboard and made two brown outfits, thinking I'd narrow it down later. And then I couldn't decide which I liked best. So…

Because brown is so nice, sometimes I like to wear it twice.
And also because I really couldn't decide which outfit I liked better.
Let's start with the more casual look.

The top is the Plantain T-Shirt by Deer and Doe. It's a free download, and I'd been seeing it pop up all over the sewing internets. Then Shannon of Very Shannon recommended it to me, and I figured it had to be good. It is. And sorry about the blur in the pictures, Blogger seems to like this look better on all of my pictures these days.
Anyway, the Plantain.


I did mine in a Hacci knit I picked up from the Red Tag area of Jo-Ann not too long ago. Super sheer, super loosely knit, it wasn't as bad to work with as I'd feared, but still kind of a pain. I did rolled hems on all the seams, using my serger, so hopefully it stays together, and made sure to interface the neckband so it lays nicely. It will be a great top this spring and even into summer. I love the relaxed design and the wide, scooped neck.
I paired both tops with my fifth pair of Jalie 2809 jeans.

I did them in a skinny fit again, following my altered pattern; this time in a light-weight, brown stretch denim from a local shop, Nuttal's. The brown denim was a total score, I paid less than $5/yard for it and it was the only brown denim I could find locally or online. And the remnant I picked up was all they had in the store. Providence in brown.

My second look features one of the most versatile patterns I've sewn for myself, the Simple Blouse from Running with Scissors. There is so much you can do with this pattern, it's insane. There are multiple options in the pattern itself, and then even more ideas and instructions at Running with Scissors blog HERE. It's a fabulous jumping off point for all kinds of top ideas you may have.

I did my Simple Blouse in a floral crepe from Fabric.com. Following the pattern instructions, I added bust darts, and then did a button-front variation with bound neckline.

It's comfortable, simple, and just pretty.
And that's me, in brown, twice.
This whole series is pretty amazing. Two weeks of incredible women sewing monochromatic fashion for themselves. Admire them all, in all their shades

Plantain T-shirt Pattern by Deer and Doe. Hacci knit fabric from Jo-Ann Stores
Simple Blouse by Running with Scissors. Crepe fabric from Fabric.com Jalie 2908 Jeans by Jalie. Brown stretch denim from Nuttal's in SLC, UT
Flats: Old Navy
Red Heels: Madden Girl