Another day, another pair of jeans. Or in this case, another two pairs of jeans.

Today I get to participate in the Small Fry Skinny Jeans Pattern Tour by showing you the jeans I sewed for my bookend kids, Kael and Ivy. The Small Fry Skinny Jeans pattern is a new release from Titchy Threads, and it is so well done. I was impressed with everything from the downloading process on Titchy Threads site (it saves all your pattern downloads right there so you can access them any time!), to the in depth instructions, to the way the pattern lined up and the pieces all came together. This is a very professionally made pattern. And with a size range of 0-3m to 12 years, it will take you from newborn to pre-teen.
For my pre-teen, I made a pair of grey denim Small Frys. And they're pretty epic, as my 11 year old would say.



I debated what size to make Kael. By his measurements, he fits into a lengthened 10. But the kid is growing insanely fast these days. Like put on 8 lbs in one month fast! And I'm pretty sure we're headed right for a growth spurt. So I went a size too big, and made the largest size the pattern goes to, a 12. As a result, his fit isn't super "skinny". However, boy styles being what they are, baggy jeans work for him, and he told me he loves the way these fit.
They are so comfortable, apparently, that they just beg to be rolled around in. He had these on all of an hour, on location at the photoshoot, before I caught him rolling down a wet, grassy hill in them. I guess there's no better stamp of approval from an 11 year old boy than grass-stained knees and bum, right? sigh.
I don't know if it's because the jeans are too big, but I don't like the length of the rise. Ivy's pair is fine, so it really might be the too-big-ness of Kael's, but I feel like the rise below where the zipper ends should be a couple of inches shorter. Next pair I make, I'm going to watch for it and see if it needs to be adjusted, or if is just Kael needing to grow into things. I did increase the length of the belt loops for both pair. I do this for every pair of pants I sew lately, for myself and for my kids. Even RTW jeans are hard to get belts through sometimes, especially in kid sizes, so I just go for longer loops every time now.

Small Fry Skinnys are great jeans. I love the attention to detail, the size range (0-3m up to 12 years!), and that they work so well for boys and girls.



Ivy's pair is one of my favorite things ever. They are ridiculously adorable. The fabric is some floral twill from Jo-Ann Stores. I made Ivy a size 24m. And like her brother, she seems super comfortable in her Small Fry Skinnies. I could not get her to hold still, she was all over the place. But looking super cute in her tiny jeans as I chased her with the camera.
The pattern is designed so that the smaller sizes, 0-3m-3T, accommodate a diaper. Ivy is wearing a cloth diaper with her jeans, and the fit is fabulous. The other cool thing with the sizes of this pattern, other than the range, is that you can print off exactly, and only, the size you need! Super awesome, thoughtful feature. I wish more patterns offered that option.

The details of the smaller sizes are the same as the larger, five pockets (including the most adorable coin pocket I have ever had the pleasure of sewing!), belt loops, yoke, and a fly. There are a couple of options for the fly. I just did a faux-fly for Ivy to make dressing easier, on account of the always running-away thing she's got going on.

You can pick up your copy of the Small Fry Skinny Jeans HERE, and get 20% off with the code TOUR20 through March 15th, 2014. And you can marvel at the topstitched adorableness that is the Small Fry Skinny Jeans at all the stops along the tour by clicking the links below.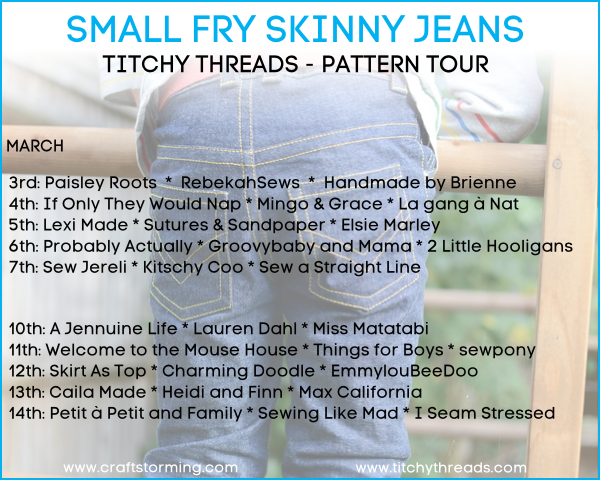 Kael
T-Shirt: Shirt!Woot "Thanks, Science"
Pants: Small Fry Skinny Jeans pattern by Titchy Threads, fabric is grey denim from Jo-Ann Stores
Shoes: New Balance
Ivy
T-Shirt: Circo by Target
Pants: Small Fry Skinny Jeans pattern by Titchy Threads, fabric is floral twill from Jo-Ann Stores
Shoes: Squeakers